Welcome to Year 1
Who is who?
Miss Vernon - Class Teacher
Mrs Pullin - Learning Support Assistant
Summer term
Our focus texts this term are 'How to catch a star' by Oliver Jeffers and 'Beegu' by Alexis Deacon.   
https://www.youtube.com/watch?v=_3oQcKxE-ck  ( Watch 'How to catch a star')
https://www.youtube.com/watch?v=D84WWxBhbn4&list=PL1TiJZ0DCSnvZguhPmarFonpE50yPC8cG (Beegu) 
During the first text the children will be bringing home our very own star.  This will be their friend.  Please send photographs to the school office which we will print off and display in class. 
In Science, we will be learning about our solar system and the history of space exploration.   We will be writing stories,  letters and lists of items we would take into space.  Year 1 will be sharing their space knowledge with the whole school at an assembly.
As a school, we will be participating in the art exhibition 'Picture This' which will be displayed at Magna. Year 1 will be creating seaside footprints.  
Spring Term
Our new focus text this term is called '10 things I can do help my world' by Melanie Walsh.
You can listen
https://www.youtube.com/watch?v=RGVNv3T1V34
We will be learning how to write recounts and reports .
To do this, we need to know all about the 3: Rs Recycle, Reuse and Reduce. 
Our planet is in need of our help, and we must all do our part to save it. 
Did you know that if you turn the tap off when you clean your teeth, you will save 18 glasses of clean water!
Over this term we will learn about other things we can do. 
Mathematics Year 1 Knowledge Organiser
Longitudinal Learning
In our afternoon sessions, we will be gaining skills and knowledge in all areas of the curriculum.
In Geography,  we will be travelling to a different country each week, where we will be researching the weather, and their food, buildings and culture. We will all have our own passport. Ask your child which countries we have travelled to so far...
In Art, we will be researching different artists from a range of time periods. We will be painting/drawing in various styles of...  Check out some so far!
Autumn Term 2018
This term both of our focus texts are connected to the sea.  The first text is called the Storm Whale by Benji Davies.  Whilst reading this text, we will find out interesting facts about whales. 
Did you know whales are the largest mammals on Earth?  Whales are so unusual, they even have ear wax plugs! 
Autumn 2 
This second half term focus book is called Billy's Bucket by Kes Gray & Garry Parsons.
Watch the story at https://www.youtube.com/watch?v=GJOszyHKjMk  
 History in Year 1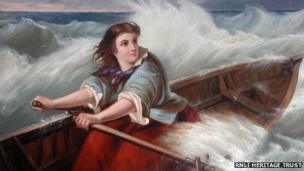 Do you know who this is? Do you think she is famous?
Our History focus will look at famous people, in particular the heroine Grace Darling. 
Watch her story at:  https://www.youtube.com/watch?v=Yv3eS40j0N0
Each week, we will also research what happened that week in history. 
Some interesting facts so far that we have discovered: when the Beatles released their first album, when post codes were first introduced, and Harold Wilson, who was the youngest Prime Minister in 1964.