Summer Term 2020
This term both of our focus texts are connected to the sea. The first text is called the Storm Whale by Benji Davies. Whilst reading this text, we will find out interesting facts about whales.
Did you know whales are the largest mammals on Earth? Whales are so unusual, they even have ear wax plugs!
During our last second half term our focus book is called Billy's Bucket by Kes Gray & Garry Parsons.
Watch the story at https://www.youtube.com/watch?v=GJOszyHKjMk
History in Year 1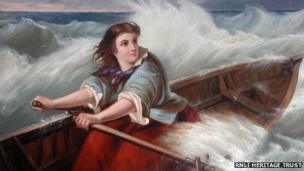 Do you know who this is? Do you think she is famous?
Our History focus will look at famous people, in particular the heroine Grace Darling.
Watch her story at: https://www.youtube.com/watch?v=Yv3eS40j0N0
Each week, we will also research what happened that week in history.
Some interesting facts so far that we have discovered: when the Beatles released their first album, when post codes were first introduced, and Harold Wilson, who was the youngest Prime Minister in 1964.